Projects and profitability
Examples of profitability
Modernization of the energy situation in a chalet.
Place: Denia Years of realization: 2020/2021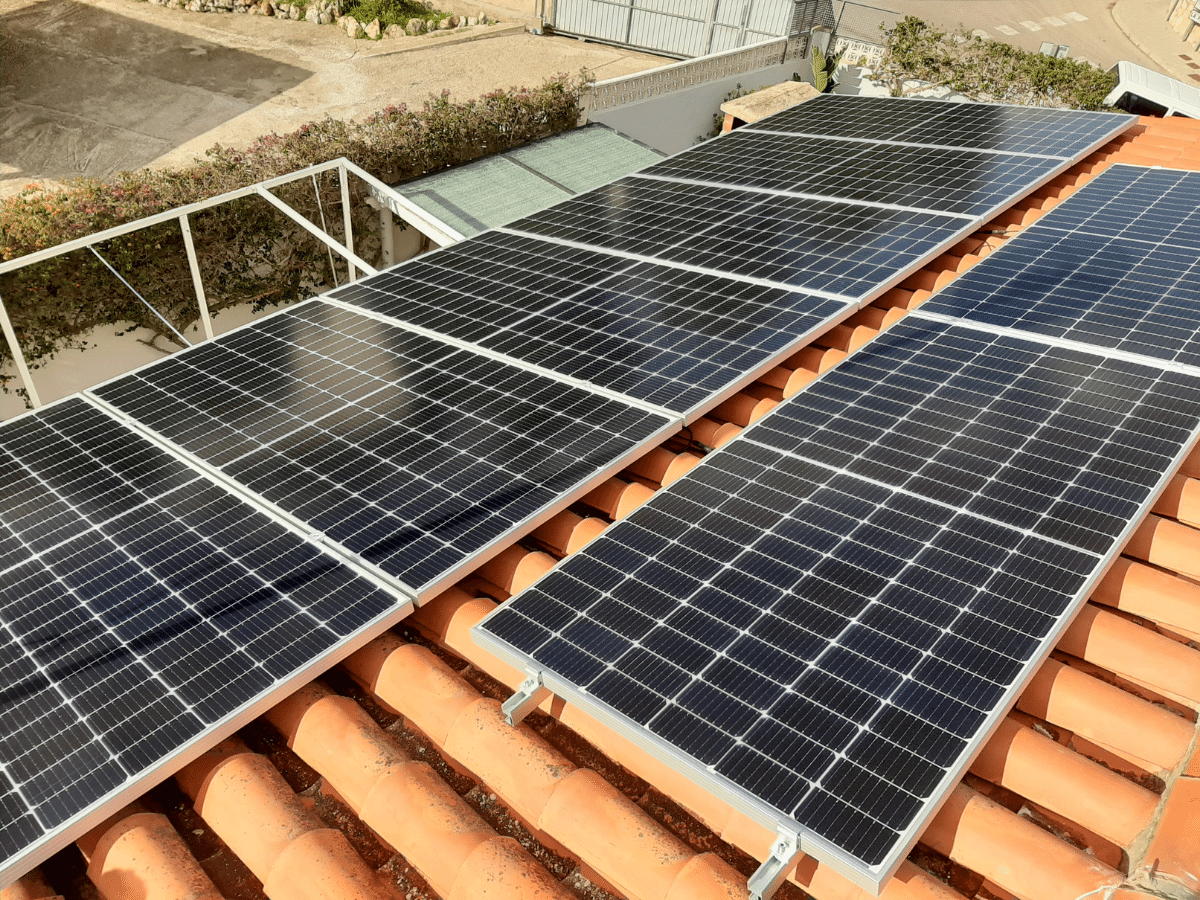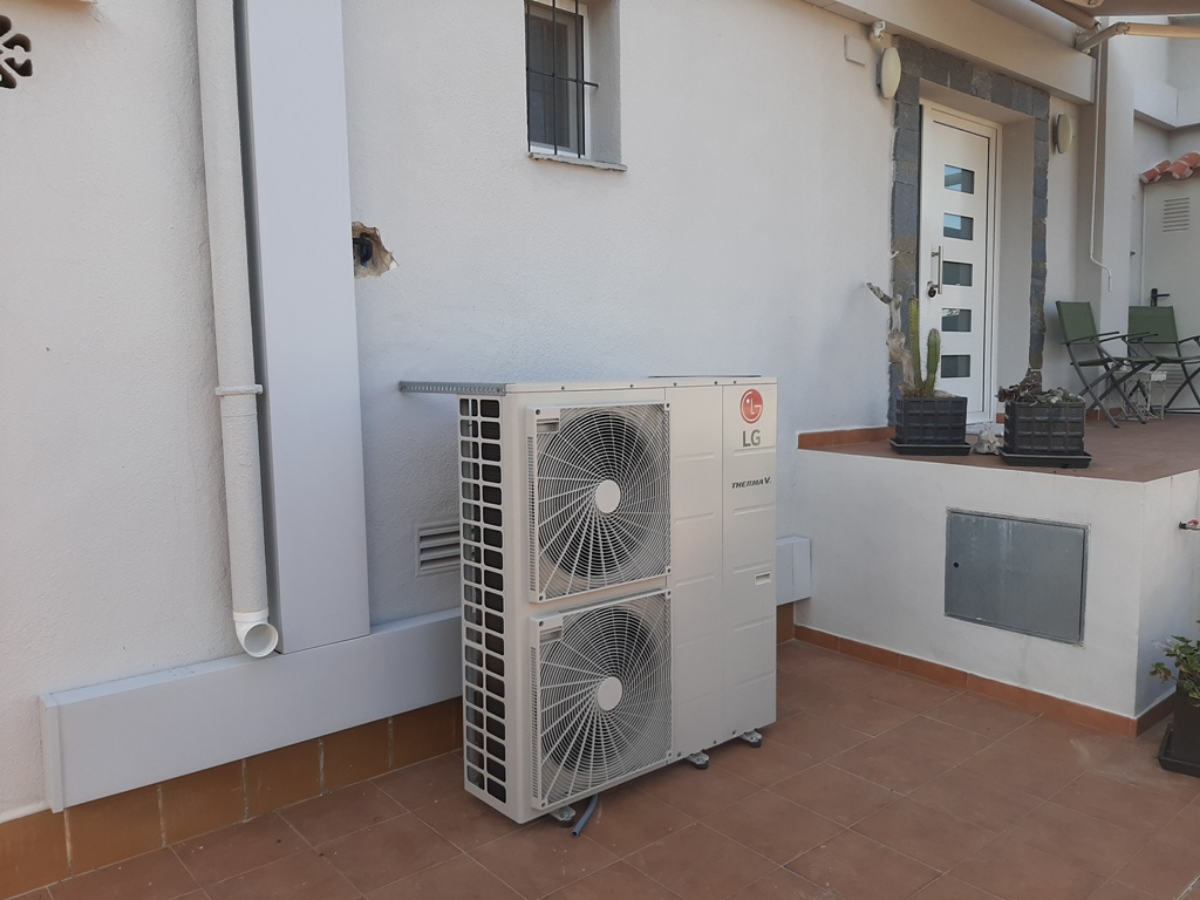 It is a typical chalet in the area. Customers had large expenses for propane gas and electricity. We have replaced the gas boiler with a heat pump (aerothermal). The new heat pumps also work with radiators, because they are capable of generating supply temperatures of 65 – 70 degrees. An air / water heat pump takes advantage of the energy contained in the air and transforms it into thermal energy to heat the house (also swimming pools). For one part of electricity that is used for the fan and the compressor, you receive 4 parts of thermal energy for free! This is why heat pumps are part of the renewable energy family. Additionally, we put photovoltaic solar panels, which help reduce the cost of electricity from the network. When the days get longer, the house is self-sufficient. In spring and autumn the excess energy is used to heat the pool.
Performance
The investment has a cost of about 25,000 euros. The equipment has a life expectancy of about 15-20 years. If the investment is spread over 15 years, it would come out at 1,670 euros / year. Gas is no longer used, which was already 1500 euros / year. In electricity the save is about 1800 euros / year. Total 3300 euros / year, so the installation is amortized in 7.5 years. If it is considered that now it is possible to request the compensation of surpluses from the electricity supply company, it is amortized much earlier still. Apart from the economic savings, you also gain in comfort, because you do not have to wait for the supply of gas bottles. Security is gained, because gas bottles are always a threat to people and the property. The swimming pool bathing season is extended, it is a fact that cannot be valued in money, but since it has been invested in the construction of a swimming pool, which was used only between May and October, now it can be used 2 – 3 months more. Then clients have a calm conscience, they are no longer contaminating. Also they have the satisfaction to not pay so much money to polluting multinationals, the electricity bill is received with a smile …
Installation of a solar "thermosiphon" for domestic hot water (DHW).
Place: Xaló. Year of realization: 2019
A family of 5 people used a butane gas heater. Every 10-14 days they had to change the gas bottle. Calculating with 17 euros per bottle it translates to an annual expense of 500 euros. A solar water heater for domestic hot water has a cost of about 2000 euros. This means that in 4 – 5 years the investment pays for itself, in addition, it is no longer necessary to load the butane bottles in the car in search of a spare part. You gain a lot in comfort and you do not get contaminated by traveling, the sun comes home for free.
Installation of a solar air collector for a villa
Place: Benissa. Year of realization: 2017
It was an extreme case of a client who came from Switzerland to his chalet on an Easter break to enjoy the good weather in Spain. Unfortunately, the entire interior of his home was found to have bad smells, he had mold on his clothes inside the wardrobe, on the furniture and on the walls. The damage was 10,000 euros, the holidays spoiled. We installed a Twinsolar 2.0 solar air collector, which was worth 2400 euros. A case, in which an installation of an air collector is amortized from the beginning. In the future, clients will come to the holiday home smelling good and enjoying it from the first minute.
Installation of an isolated solar photovoltaic for a country house
Place: Calpe. Year of realization: 2019 
The clients asked the electricity supplier for a light socket and they asked them 20,000 euros for the connection. For half of this price an isolated photovoltaic solar energy installation was made and bills are avoided in the future. It pays for itself from the start.
Would you like to know if this could be interesting for you?
Leave a message and we will advise you in your specific situation.